Be prepared with the right planning.
Our team of professionals will learn about your specific facility or locations, whether they are on one campus or multiple campuses. We'll develop an in-depth understanding about your overall security picture and provide you with an actionable plan for responding to a security emergency. This may include planning for anything from high-risk employee terminations to active shooters and workplace violence to natural disasters. You need a comprehensive plan that is readily actionable and key employees who are trained before a serious event occurs. Preplanning and training are critical elements to successfully limit liability, prevent hostile actors, and increase employee safety, as well as understand the first responder's actions. Preparing your company prior to a serious security event will better equip and expedite outside agency responses, leading to a more positive outcome.
Our areas of focus include:
We Take Pride In Satisfied Clients
"We currently had an Active Shooter meeting with American Sentinel. This was for a group of professionals who manage high rise, midrise and garden style apartment homes. We were all more than impressed by the knowledge shared. It not only made sense in our business but in our personal lives as well. This class is highly beneficial and very relevant to today's world. This is a very important class and teaches you how to save your life and possibly lives of others. Amazing information."
"Talking about an active shooter is a very scary and uncomfortable topic to discuss, especially when you are a teacher working with preschoolers or a camp counselor spending your time with groups of children over the summer. Michael was the first person to successfully assist us with this task.  He walked through our facility, communicated with staff, gave clear direction on what we needed to accomplish and assisted with/attended drills that we administered with our teaching staff."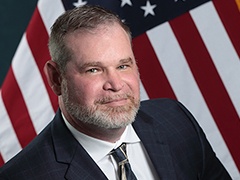 Joshua Mailey – Co-Founder
As president and co-founder of American Sentinel, Josh brings 30+ years of experience in the protection and investigations fields. Josh is a licensed private investigator in Illinois and a member of ASIS International. Josh is equipped and ready to help you with your site assessment needs.