Mitigate risk. Improve survivability.
In today's society, violence has become a constant threat as companies, organizations and groups struggle to mitigate their risks and improve the survivability of a violent attack in the workplace, gathering place, and places of worship. It is no longer enough to just say run-hide-fight. Your people are your life blood and we need to better prepare them for the worst and give them actionable skills to react to hostile actions and violent actors. Contact us to discuss our employee training, planning, and consulting services for workplace violence, active assailant response and training.
Workplace Violence Planning

Site Assessments
We Take Pride In Satisfied Clients
"We currently had an Active Shooter meeting with American Sentinel. This was for a group of professionals who manage high rise, midrise and garden style apartment homes. We were all more than impressed by the knowledge shared. It not only made sense in our business but in our personal lives as well. This class is highly beneficial and very relevant to today's world. This is a very important class and teaches you how to save your life and possibly lives of others. Amazing information."
"Talking about an active shooter is a very scary and uncomfortable topic to discuss, especially when you are a teacher working with preschoolers or a camp counselor spending your time with groups of children over the summer. Michael was the first person to successfully assist us with this task.  He walked through our facility, communicated with staff, gave clear direction on what we needed to accomplish and assisted with/attended drills that we administered with our teaching staff."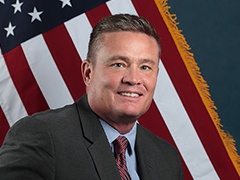 Michael Zeigler – Vice-President
As vice-president of American Sentinel, Michael brings 30+ years in law enforcement experience. His diverse background includes leading sensitive investigations and covert surveillance as commander of a detective division, and running high-risk missions as a SWAT unit leader. Michael is also certified as an instructor for a nationally recognized active shooter program.